The following article was published in the Wall Street Journal on Oct 12, 2010. Click here to see the original article at Wall Street Journal On-line.
THE INFORMED PATIENT / OCTOBER 12, 2010
Wrinkle Erasing for Starters
As Fewer People Get Cosmetic Surgery, More Try Frequent Injections, Fillers, Peels
By: LAURA LANDRO
Maybe it's the laugh lines that don't go away when you stop laughing, or the furrows in the brow even when you aren't frowning. Or perhaps it's the brown spots and rough patches on your cheeks, from years of too much sun worship.
For aging faces, there comes a time when skin creams and a good night's sleep aren't enough to keep you looking as young as you like. People have various reasons for turning back the clock on their appearance, from feeling better about themselves to staying more competitive in a youth-oriented workplace. But face-lifts and other plastic surgery can be a turn-off for many people, either because of their high cost, lengthy recovery times or risks of complications.
Now, a widening array of minimally invasive treatments are making facial work more accessible to many people, and becoming part of their regular upkeep. Injections of botulinum toxin type A—better known by the brand name Botox—are still the most popular procedure for smoothing wrinkles, especially in the forehead and brow. Newer dermal fillers like Juvederm and Restylane can plump up lips and smile lines.
Surgeons can inject fat into the face from other parts of the body, which some patients prefer because it uses their own natural material. Laser treatments are designed to vaporize age spots and scars. And chemical peels can melt away damaged layers of outer skin, improving its tone and texture.
Such treatments may last only a few months, but they cost as little as a few hundred dollars per session and can be done during a lunch hour. Facial fillers and injections "can postpone the threshold for having a face-lift or major surgery for 10 to 20 years," says Jonah Shacknai, chief executive of Medicis Pharmaceutical Corp., the maker of Restylane and Dysport, a Botox rival.
Last year, the number of U.S. face-lifts, which can cost $6,000 to $15,000, fell 29% to 94,247 from a year earlier, and eyelid surgeries declined 23% to 149,943, according to the American Society for Aesthetic Plastic Surgery. By contrast, injections with Botox and Dysport rose 3.8% to 2.6 million last year.
Some plastic surgeons have begun offering many of the less-invasive techniques like injectables. They then may guide patients into surgery later on. Some surgeons also are offering so-called "mini-lifts" to younger patients and those with minor sagging, using smaller incisions that just tighten skin.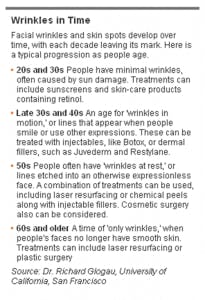 Skin problems emerge over decades, often starting with sun damage that may appear in the 20s, says Richard Glogau, a professor of dermatology at the University of California, San Francisco. People in their 30s and 40s might have what Dr. Glogau calls "wrinkles in motion"—lines that appear when they smile, which can often be treated with injectable fillers. By their 50s, people often have "wrinkles at rest," or lines etched into an otherwise expressionless face. At this point, they may need a combination of injectable treatments and laser resurfacing, Dr. Glogau says.
Marian Northington, a dermatologist at the University of Alabama, Birmingham, says she often tries different procedures over time with her patients to deal with issues as they arise. For instance, she may combine a laser treatment, to remove wrinkles and brown spots, with fillers or Botox for expression lines. "I have patients who feel very competitive in the job market and want to look as youthful as their younger counterparts, but they don't want anyone to be able to tell what they've done," she says.
Linda Brantley, a 46-year-old physician's assistant, sees Dr. Northington for occasional laser-resurfacing treatments, which use radiofrequency waves to heat deep layers of skin. The treatments, intended to stimulate the natural renewal process of skin, replace sagging, spotted or wrinkled skin with smoother, tighter skin with improved tone and texture, she says. At first her face looks "a little flushed." But after two weeks, she says the results are impressive and last for several months. "I'm never going to be 20 again but if I feel good in my skin then I project a positive feeling to someone else," she says.
More
More Health & Wellness coverage Botulinum toxin works by blocking the nerve signals that cause muscles to contract; it typically lasts three to four months. Fillers like Restylane and Juvederm are based on hyaluronic acid, a sugar found naturally in human skin that absorbs water and acts like a cushion to restore volume and structure to the face or fill lip lines. Another filler, Sculptra, based on poly-l-lactic acid, can add volume to sunken areas and deep folds; in the past it was used primarily for patients with hollow faces due to the ravages of AIDS. Injectable treatments carry risks such as bruising, lumps, local infection and scarring. And botulinum toxin may also affect nearby muscles.
Dr. Glogau warns that patients can be matched with the wrong procedure, such as laser resurfacing to make the skin look better, when the real problem is loss of volume in the face. He suggests patients discuss options with their physician, seek out board-certified specialists and ask about risks and follow-up care.
As with too much plastic surgery, doctors say patients can overdo facial treatments. Too many Botox injections, for instance, can give patients a paralyzed, expressionless look, while overuse of fillers can make the face and lips look overblown and artificial.
New York plastic surgeon David Hidalgo says he is seeing more patients who "are so filled up with injectables that they are…circling back to more traditional facial rejuvenation" with surgery. Surgeons also note that some aging issues can only be corrected with surgery, such as loose jowls, a "turkey gobbler" neck, baggy eyelids and very saggy, heavily wrinkled skin.
Men account for only about 9% of all cosmetic procedures. Although the number of surgical procedures by men fell 3% last year, nonsurgical treatments, including botulinum toxin injections and dermal fillers, increased 11%, according to the American Society for Aesthetic Plastic Surgery.
Sam Hamra, a Dallas plastic surgeon, says patients who go the injectable route can spend thousands of dollars a year, "and at the end of the year, you have nothing" since the effects don't last. Many of his patients, he says, are looking for a more permanent answer to their aging faces. And some are opting for face-lifts at a younger age that can later be augmented with fillers or injectables.
One of his patients, Lesa Christian, a 53-year old flight attendant, had a facelift seven years ago; she has since had touch-up surgery under her eyes and is now considering some injectable filler. Besides wanting a more youthful appearance at work, Ms. Christian says she adopted her granddaughter at birth nine years ago and didn't want to look so much older than the mothers at the girl's school.
"I would look at myself and think that I looked tired and needed to be perked up," says Ms. Christian. After the surgery, she was able to take two months off work, "and when I came back I felt like I looked refreshed, without looking completely different."