The following information can be found on the ASPS Website:
ASPS Member Qualifications
Many health care providers are now performing plastic surgery procedures, but that doesn't mean they're all qualified to perform plastic surgery. ASPS Member Surgeons are trained in cosmetic and reconstructive procedures of all types.
Members of the American Society of Plastic Surgeons (ASPS) are certified by the American Board of Plastic Surgery or the Royal College of Physicians and Surgeons of Canada. The ABPS is approved by the American Board of Medical Specialties to certify physicians in plastic surgery of the face and all areas of the body.
When you choose an ASPS Member Surgeon you know your surgeon:
Has at least 6 years of training and experience in surgery, with 3 years specifically in plastic surgery
Is certified by the American Board of Plastic Surgery
Operates only in accredited medical facilities
Adheres to a strict code of ethics
Fulfills continuing education requirements, including patient safety techniques
Will be your partner, working to achieve your goals
To make sure your surgeon has these outstanding qualifications, look for the ASPS Member Surgeon symbol.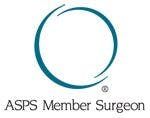 ASPS member logo